Creating a Ride Group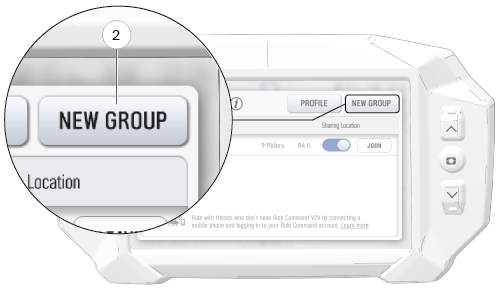 To create a Ride Group, do the following:
From the Map Menu, tap the Map Menu icon at the bottom of the screen and select the Group Ride button.

On the Group Ride Panel, tap the New Group button 2 to create a group for others to join.

Enter a name in the Group Name field.

Select whether to enable a passcode. When enabled, you will be prompted to enter a 4–digit passcode.

NOTICE

If Passcode Required is left unselected, any rider can freely join your Ride Group.

Select the Create Group button.
Your newly created group is now shown. If your ride group has the passcode enabled, other riders must enter your chosen passcode to join the group. .
NOTICE
After a second rider joins, the map will switch to zoom-to-group and as you ride it will automatically zoom to keep all riders in view. Tap the zoom control to return to manual zoom mode.